The Most Unpopular President in History
At the end of his two terms in office, President George W. Bush maintained a 31% "strong approval rating" amongst the American people.  Historically low by most standards, and destined to become one of the most un-popular Presidents in this history of the country if we were to believe the lamestream media.
Along comes Barack Hussein Obama, who today hit a 23% "strong approval" rating today, 11 months in office.
By far, the most un-popular President at this point in his first term, amongst all Presidents in the history of the country.  Yes, that includes Jimmy Carter.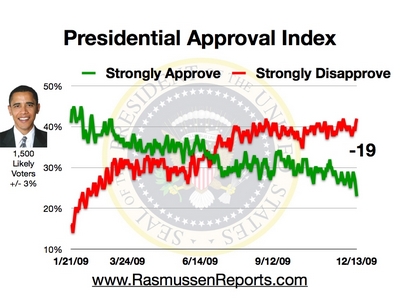 The Democrat controlled Congress is even worse with a 17% approval rating.  Trouble is in store for Harry Reid and Nancy Pelosi to be sure.
In Nevada, most voters oppose the health care plan currently under debate in Congress, and is one reason Harry Reid is trailing political newcomer Danny Tarkanian in the race for the Senate Seat Reid currently holds.
Here in Illinois, the race for Barack Hussein Obama's old seat (currently sold to, and held by Roland Burris) is so fragmented on the Democrat side, fraught by scandal within the Democrat party that the seat once held by Peter Fitzgerald (R) may once again turn Republican.
Across the board, Democrats running for re-election in the Senate are in trouble as Independents flock away from the Democrat Party in search of some fiscal sensibility. 
It should be clear to most right-thinking people why the Democrats are in so much trouble in the upcoming mid-term elections, but the three  most cited reasons are:
Economy.  Obama's spending of $787 BILLION taxpayer dollars has failed to stimulate the economy and produce jobs.
Health Care Reform.  Overwhelmingly by a 56% to 60% margin, American's want the Federal Government to keep their dirty, filthy, corrupt hands off our health care.
Government Spending.  Obama and the Democrats quintupled the Federal Deficit for 2009 up to nearly $2 TRILLION dollars, and recently they've increased the Debt Ceiling by another $1.8 TRILLION dollars.  Never before in the history of this Country has a President incurred nearly $4 TRILLION dollars in debt – his first year in office.
Democrats ignore these facts at their own peril, however I also have a word to the wise for the Republican Party: If you keep trying to be "Democrat lite" by proposing amendments to the Democrats health care plan, you'll suffer the same fate in 2010 that they will. 
Republican's must stop this wasteful government spending, stop the seizure of the nation's health care system, and return fiscal sanity to Washington DC if they want Conservative's votes next November.