Threatens To Kill AZ Republican Representative, Tea Party Leader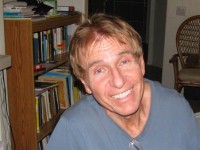 Yesterday during an ABC News sponsored "Town Hall" meeting in Arizona,  James Eric Fuller went off the deep end and threatened to kill Republican AZ State Representative Terri Proud and Tuscon Tea Party Spokesman Trent Humphries.  At one point, Fuller snapped a picture of AZ State Rep. Terri Proud and shouted "you're dead!" before Pima County Deputies escorted him away from the event and placed him under arrest.
Witnesses sitting hear Fuller told police that he was making them feel "very uncomfortable" and was clearly agitated when he arrived at the event.
As Deputies escorted Fuller from the event, Fuller shouted loudly "you're all whores!"
Fuller, a victim of last weeks shooting rampage by Jared Loughner in which 9 year old Christina Taylor Green was killed and AZ Democrat Gabby Giffords was shot through her brain, was taken into custody by none other than Pima County Sheriff  Clarence Dupnik and involuntarily submitted for a mental health evaluation.
Fuller is a self-described "political operative" who specializes in gathering petitions for Democrat party candidates and ballot initiatives.  Before the program began, he passed out business cards reading:  "J. Eric Fuller, Political Circulator.  Expediting Initiatives since 2006."
In fact, in Fuller's online profile on website "hypnothoughts.com" he describes himself as follows:
I use extraordinary persuasive charisma to interest blase, apathetic, oblivious and at times hostile voters to listen to the voice of justice and consanguinity. My experiences encountering public figures and many affluent travelers in person has led me to believe that we all are to blame for George W. Bush.

With a high opinion of his powers of persuasion and a rather unique ability for insinuating himself at public appearances of the rich and famous he apparently believes that his grievances with President Bush are everyone's fault. I know; it doesn't make any sense to me either.
This does not bode well for the Democrats at all.  As we reported earlier this week, the number of death threats by left-wing Democrats such as Fuller has escalated dramatically over the last week.  (See Twitter threats against Sarah Palin below.)
This isn't just Bush Derangement Syndrome or Palin hatred at play with this guy, he's a prime example of a typical left-wing nutjob who wants the world his way and nothing else. 
More left-wing extremism just like William Ayers IMO.